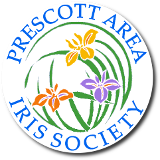 Citizens Cemetery Restoration and Iris Reclamation
Citizens Cemetery is a 6 acre cemetery which was in operation from 1864 to 1933 when it was closed. It is the original cemetery of Prescott and is loaded with western history and historic iris. It contains 3,000 plus graves of which approximately 840 have known grave markers. The other grave markers have been destroyed by vandalism between 1933 and 1996 when the Yavapai Cemetery Association began a restoration project. The restoration is a volunteer program funded entirely by private donations. PAIS is participating in this restoration project.
The cemetery grounds contain large clumps of historic iris which were planted by the head stones between 1864 and 1933. Many of the initial iris planted there are as old as the early 1800's or earlier having been brought by the settlers to this area from the Eastern and Midwestern states. Many of the head stones and unmarked grave plots contain clumps of iris from a few feet in diameter to 8 to 20 ft in diameter. These clumps of irises have been untouched since they were initially planted 150 years ago. PAIS has been asked by the Yavapai Cemetery Association to thin, remove and replant the iris appropriately at grave markers as part of the restoration project. The irises reclaimed from the cemetery will be used for several other public projects including the Sharlot Hall Museum plantings and the PAIS school education program where each student receives an iris. Excess irises are also sold by PAIS during their spring and summer sales. Portions of the proceeds are presented to the cemetery association for their continuing restoration project. May is the best time to see the iris in bloom.
The Citizens Cemetery Restoration project is a non funded volunteer program of the Yavapai Cemetery Association(YCA). YCA has an adopt a grave program for individual grave restoration and a program for volunteers to assist with landscape maintenance. If interested please contact ycacitizens@gmail.com or Mr. Robert Bakken at 928-771-8264 for information.
If you are interested in receiving more information, participating in this program or joining us, please contact president@prescottirissociety.org.
Citizens Cemetery map
815 West Sheldon
Prescott, AZ

Photos by Dennis Luebkin