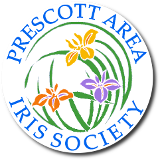 Membership
Why Become A Member?
General Meetings:
Informational programs of varying content on Iris and other horticultural topics, including notable local and national speakers, video and slide presentations, and interesting garden updates, activities and information on our programs.
Learn how to grow and care for irises of all varieties from other club members and speakers.
Make new friends who love gardening. Many people are new to the area, what better way to make new friends and learn what will grow in the varying climate zones of the Prescott quad city area than to join us.
Newsletters:
Information on upcoming local, regional and national iris related events
Tips for growing iris
Color photos of members iris, gardens and events both local and national
Links to iris related material
Member articles
Member Activities:
Annual spring iris show and potted iris sale
Garden tours
Ice Cream Social & Silent Auction
Member's Iris photo contest
Potluck Dinners
Rhizome sales
Community outreach and beautification programs
Join a committee or volunteer for PAIS activies and programs
Most of all, share your joy of growing iris with others!
Membership Application
Dues are on a calendar year basis (Jan-Dec) with a three year discount available if paid in advance.
If you have questions, please contact the Membership Officer:
membership@prescottirissociety.org
Please mail the membership form to the address printed at the top of the form.
Download the PDF application form.