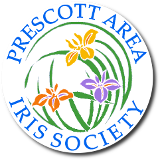 Welcome to the Prescott Area Iris Society
Welcome to the Prescott Area Iris Society (PAIS). For a listing of meetings and events see our Calendar. General meetings and events are free and open to the public. Come join us. Learn and have fun.
New Updates
November 14th Meeting
We are going to have an actual meeting on November 14th at the Stoneridge Community Center. Our speaker, Cheryl Deaton from San Fernando will be there to speak. Her topic, "Sex in the Garden" (hybridizing explained) will be very informative.
Due to covid (you knew this wouldn't be easy) we are limited to just 25 members so we are going to need to take reservations. Please email duckwalkdesigns@gmail.com if you will be attending, only the first 25 members will be able to attend.
We will not be serving any refreshments, so you will need to bring your own beverage, food or... and, of course, face coverings will be required.
Rhizome Sale Moves Online
This year's rhizome sale will be held online instead of in-person in Prescott Valley.
2019 Exhibit Winners Posted
Check out the photos of the 2019 Kaleidoscope of Color winners!.