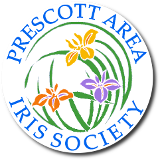 Haas Interfaith Chapel Meditation Walkway and Gardens
After the June 30th 2013 incident which killed 19 Prescott Hotshots, PAIS and its members were seeking a way to honor the fallen and were looking for a home for a memorial garden. We were honored when we were approached by Embry Riddle University to join them in creating the Fire Fighters Memorial. It is our hope that the creation of this memorial garden will become a place of beauty, serenity, remembrance and honor not only to the 19 fallen but also to those firefighters who continue to give of themselves on a daily basis.
The gardens, when completed will contain Irises, daffodils and daylilies. The gardens located at the entrance to the Hass Interfaith Memorial Chapel features iris with names of fire related items such as "Fire Breather", "Blazing Beacon", "Flame", and "Molten Embers". and iris with spiritual names such as "Immortality", "Heavenly Encore" and "Stairway to Heaven". The iris have been donated by iris lovers from across the United States and PAIS club members.
This garden is our small thank you to the brave dedicated men and women who continue to give of themselves to protect and serve our communities.