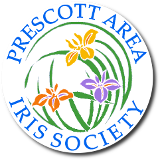 Richard Marcusen (Yavapai College) Sculpture Garden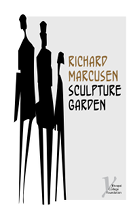 As described by the Friends of Yavapai College Art the Sculpture Garden "is a place of beauty, inspiration, and thoughtful reflection." The Prescott Area Iris Society (PAIS) working in cooperation with the Friends of Yavapai College Art have been developing iris gardens within the 4 acre Sculpture Garden to complement and enhance the sculptures created by nationally recognized artists. Adjacent to the YC Performing Arts Center, the sculpture and iris gardens are a favorite place for students, staff, and the community.
Iris plantings within the Sculpture Garden include:
The William R. Dykes Medal Iris Garden which features the Dykes Medal award winning iris from 1926 to the present.
The Children's Story Book Iris Garden.
The Black Iris Garden with a display of very dark almost black iris.
The Francelle Edwards Iris Garden featuring iris hybridized by Arizona resident, Francelle Edwards.
Iris accent plantings throughout the garden.
The best time to visit the garden is during the month of May when the irises are in full bloom.
If you are interested in receiving more information, participating in this program or joining us, please contact president@prescottirissociety.org.
Yavpai College map
1100 E. Sheldon Prescott, Ariz.
928-776-2025
Hours: Sun – Thurs, 10 a.m. – 7 p.m.; Fri – Sat, 10 a.m. – 8 p.m.
Photos by Dennis Luebkin