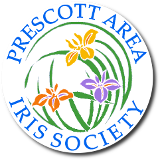 Community Outreach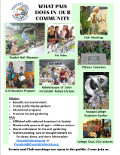 The Prescott Area Iris Society is very active in several interesting and exciting public service programs and fund raising activities which not only support the society but also support our community outreach programs in the Prescott quad city area. Listed below are the current programs which PAIS conducts. The programs indicated herein are credited as Public Service hours by the Master Gardeners of Yavapai County and other service organizations such as 4H Clubs, FFOA, Scouting programs and extra credit public service hours for high schools and colleges. If you are interested in receiving more information, participating in these programs or joining us, please contact president@prescottirissociety.org.
Outreach Programs
The Prescott Area Iris Society (PAIS) working in cooperation with the Friends of Yavapai College Art have been developing iris gardens within the 4 acre Sculpture Garden to complement and enhance the sculptures created by nationally recognized artists. The Richard Marcusen Sculpture Garden was designated as an American Iris Society Display Garden in 2016.
Completion of this PAIS project will make this the only public display gardens of historic irises in the Southwest. These gardens will showcase iris from the years 1497 to 1943, the year that the Arizona Historian Sharlot Hall passed away.
After the June 30th 2013 incident which killed 19 Prescott Hotshots, PAIS and its members were seeking a way to honor the fallen and were looking for a home for a memorial garden. We were honored when we were approached by Embry Riddle University to join them in creating the Fire Fighters Memorial. It is our hope that the creation of this memorial garden will become a place of beauty, serenity, remembrance and honor not only to the 19 fallen but also to those firefighters who continue to give of themselves on a daily basis.
It is our hope that by teaching iris horticulture to children in grades K to 4 in the Prescott area schools, PAIS will inspire "baby Irisarians" to cultivate an interest in horticulture and the iris.
PAIS has developed a guest speaker lecture and slide show series concerning iris varieties, iris care and historic iris which can be presented to high school and college horticulture classes, special interest groups, garden societies and Master Gardeners Programs.
Beginning in the fall of 2017 a scholarship for horticulture students will be established at Yavapai College by PAIS. The Agriculture/Horticulture department has never had a scholarship program and is very excited that our club is creating this scholarship for horticulture students, a first at the college.