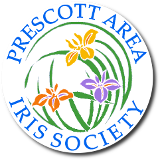 PAIS/Yavapai College Scholarship Program
Beginning in the fall of 2017, two scholarships for horticulture students have been established at Yavapai College by PAIS. The Agricultural/Horticultural department has never had a scholarship program and is very excited that our club has created these scholarships for horticulture students, a first at the college. The Prescott Area Iris Society (PAIS) greatly appreciates the public private partnership that has been achieved between Yavapai Community College and PAIS in the development of the scholarships to assist their education program.
The Production Horticulture Certificate program  is designed to prepare students for potential careers in the horticulture and greenhouse industry including grower, nursery technician, integrated pest management, greenhouse management and entrepreneur. 
The programs in Agriculture Technology are highly specialized for those seeking technical employment in the agriculture industry. Students enrolled in our programs have access to a large greenhouse, fish hatchery, equestrian arena, computer lab, science lab and carpentry/construction shop.
PAIS has had a longstanding relationship with Yavapai College beginning with the development of the nationally recognized iris display gardens in the Richard Marcusen Sculpture Garden.