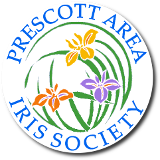 Welcome to the Prescott Area Iris Society
Welcome to the Prescott Area Iris Society (PAIS). For a listing of meetings and events see our Calendar. General meetings and events are free and open to the public. Come join us. Learn and have fun.
New Features
Kaleidoscope of Color 2018, Prescott's Festival of Iris
Saturday, April 28th, 10:00 a.m. to 3:00 p.m. Location: Mortimer Nursery, 3166 Willow Creek Road, Prescott, Arizona. Free event open to public, features an amazing variety of iris colors and patterns. Stunning displays of blooms and arrangements. Planting and care demonstrations. Potted Irises for sale. Local gardeners may pick up the rules at Mortimer Nursery, or print the form.
2017 Exhibit Winners Posted
Check out the photos of the 2017 Kaleidoscope of Color winners!.