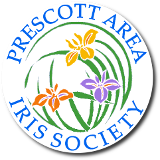 Welcome to the Prescott Area Iris Society
Welcome to the Prescott Area Iris Society (PAIS). For a listing of meetings and events see our Calendar. General meetings and events are free and open to the public. Come join us. Learn and have fun.
New Features
Scholarship Program
Beginning in the fall of 2017 a scholarship for horticulture students will be established at Yavapai College by PAIS.
Haas Memorial Garden
We were honored when we were approached by Embry Riddle University to join them in creating the Fire Fighters Memorial after the June 30th 2013 incident which killed 19 Prescott Hotshots.
Haas Interfaith Chapel Meditation Walkway and Gardens
2016 Exhibit Winners Posted
Check out the photos of the 2016 Kaleidoscope of Color winners!.