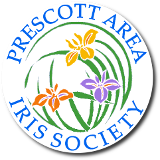 Annual Rhizome Sales
Every summer in July PAIS conducts its very popular iris sales. Iris rhizomes and potted iris grown in members' gardens are available. Several hundred varieties of unique, colorful irises from historic favorites to recently hybridized irises are available at bargain prices. Photos of the blooms are displayed for easy selection. PAIS members are eager to answer your questions about growing iris and a free growing instructions handout is provided. These sales support our Community Outreach Programs. Check our calendar for details on days and times. For more information contact: president@prescottirissociety.org. Sales are held at:
Stoneridge Community Center
1300 Stoneridge Drive
Prescott Valley, AZ 86314
Map
Photos by PAIS members.